出国导师推荐信
出国导师推荐信1
dear sir: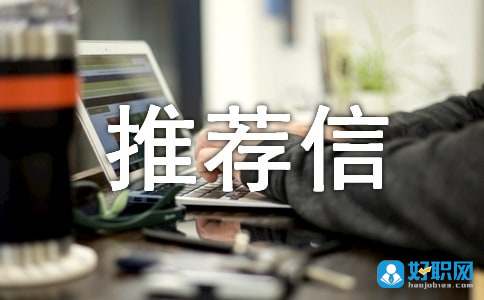 it is my pleasure to recommend mr. fu-ping wang for his application to graduate studies in your school.
  mr. wang has been my research assistant of the national science council's project "the united states and the united nations' financial crisis: the role of u.s. congress" since september 1997. his major responsibilities include information collecting, analyzing and translating. he is an enthusiastic and progressive young man with extremely high potentiality. mr. wang is not only quick at learning and good at solving difficult problems, but also with a logical mind that enables him to effectively analyze difficulties. all the work handed to him was completed satisfactorily. actually, he is so reliable that i assign him with heavy responsibilities. with his help, i have been able to spend more time in writing the research paper. i really consider myself very fortunate to have such a capable assistant.
  i am certain his diligence, coupled with a good competence and pleasant personality, will assure him of academic achievements in his future academic pursuits. i strongly recommend his admission without any reservation.
  sincerely yours,
  chung wei-kuo
  research fellow and professor
  the institute of european and american studies
  academia sinica
出国导师推荐信2
dear admissions committee:
  among all the students who have received my instruction in the courses of "international marketing" and "strategic management" at abc university, mr. john doe is one of the few who stood out and left with me a positive impression. therefore, i am confident to recommend this young man to your prestigious mba program.
  john is a bright and aggressive individual who possesses a strong motivation to learn and excel in his course work. unlike most of his peers, who gained knowledge merely from school lecturing, john would spend a great amount of efforts and time in reading outside articles and textbooks and share his ideas with the class. in addition, as an open- minded individual who never let go any learning experience, john often came to me discussing various questions and problems he encountered in his coursework.
  i would like hereby to draw upon an instance that i believe fully exemplifies john's academic ability. while attending my class he presented an excellent report focusing on the research of the european community (ec), in which he shared with us his careful observations on ec, and proposed a number of innovative suggestions for taiwanese industries that wished to gain successful presence in that market. having noticed his superior ability to conduct independent research studies and to support his arguments with logical quantitative analyses, i recommended john to submit his paper to the accounting & statistics quarterly published by the executive yuan of r.o.c.. needless to say, john has acquired very high marks in both of my courses.
  the very positive impression made by john has been repeatedly re- enforced by his strong performance in various extracurricular activities. john has managed to earn full confidence from me in his sound managerial potential by demonstrating an intelligence, aggressiveness, and leadership quality in both academic and extracurricular contexts.
  in general, i consider john a very promising applicant to your esteemed mba program. i have the least reservation on his potential to succeed in his future educational as well as professional pursuit, and will be more than happy to discuss with you any matters pertaining to this reference letter.
  sincerely yours,
  jerry smith, ph.d. professor
出国导师推荐信3
xx学校的朋友
  您好!我是柳红红的导师xxx,柳红红同学是我最欣赏的学生之一。她最吸引我的是她的学习天赋与上进心,她是我见过的最聪明的学生,学习成绩卓著,人文科学与自然科学同样精通。更为难得的是她从不妄自尊大、自以为是,依旧刻苦地对待每一项学习任务,力争成为整个团队中的最佳。体现了她对自己和爱她的人负责的态度。
  中国有句俗话:"梅花香自苦寒来",经过她持之以恒地付出,她的语言表达能力、活动的组织能力、与人的沟通能力、独立研究能力都非常突出,连续获得学校三好学生。特别是对英语,她具有天生的天赋与逐渐培养起的热情,据我所知,她的雅思成绩非常高,并获得许多中学生英语竞赛的奖项。能在英语国家学习,是她很久以前的梦想,为此她早已经作好了准备。我总是情不自禁的感慨:她说的英语与我说的汉语一样棒!
  姜不光是我的学生,还是我的朋友。因为她的个性与理想深深的吸引了我。她总是无私地为团队奉献自己的`聪明才智,主动为大家服务,任劳任怨,不计较个人得失,成为我们眼中的英雄。她又非常幽默乐观,用她微笑传递给大家一天的好心情。她又是一名体育健将,长跑、游泳、野外探险是她生活的一部分,从中她的意志得到了锻炼。我们交往非常愉快,她特别乐于与我一起分享她成长中的喜怒哀乐。还常常与我谈论电影艺术和旅游,美国的文化与风景深深地吸引了她,那里有她一个梦想。
  真舍不得她离开祖国,但我尊重她的选择,相信她会学有所成,正如我相信我们的友谊天长地久一样。谢谢。
  xxx
出国导师推荐信4
  To whom it mayConcern,I am writing thisletter to attest to Paul s skills in language and public relations.In the fouryears I have known him, I have been consistently impressed with his ability notonly to negotiate complex ideas in other languages, but also to relate thesethings in a personable, conscientious fashion.His manner in these cases isboth professional and personal, two qualities which I find particularlyvaluable in a professional setting.He has personally helped me in professionalnegotiation for everything from train tickets to contract information, and Ihave always been able to count on him.I first met Paulin school, where he was a student at the university at which I taught.He waswell-known to most of the westerners in town, who could call from differentuniversities to ask for his help.Sometimes this help involved translation ofprofessional documents, and sometimes it involved personal help in making phonecalls.Many of these westerners continue to call him today, even though theylive quite far away from him, because they have come to trust him very much.From this foundation in public relations Paul has found positions in various professionalcapacities and has been highly-valued in each place.He is generally the sortof employee a company finds most valuable in its dealings with both foreign anddomestic clients.He puts people at their ease with his language ability andmanner, both of which communicate to people that they can relax and simplycommunicate.I would highlyrecommend Paul as an employee.His experience and manner are rare and veryvaluable.Robert MooreMentor出国留学导师推荐信
出国导师推荐信5
dear sir/madam:
  as a teacher at xxxx school, i am writing to provide you a recommendation for miss/mr.xx so as to help you assess her/his application for acceptance into your program and consideration for financial aid.
  considered a promising student with originality and sophistication in her/his thinking, (she/he was asked, in the spring semester of xxxx, to develop a subsystem of a dbms project for her b.s.thesis, for which i was the chief leader. t
  his subsystem was designed to manage the information of materials in no.1 foundry plant of dongfeng auto works.to do the job, she/he read many books about software engineering and took some courses in database principles and management. keenly aware that the design of a dbms decides the quality of the whole software system, she did her/his utmost from the beginning of the project.). from analyzing user's requirements to designing the whole system, from the detailed designing to the final programming, she was very level-headed and full of innovtion every step of the way. taking full advantage of her ability and creativity, she firmly focused herself on her objective and gnored all distractions. she successfully reached her goal. in the final software testing, only a few bugs were found in her subsystem. my appreciation of her talelent was thus confirmed.miss is a very personable woman, friendly and helpful, and she has always been a team player in her work.
  i would greatly appreciate it if you could give her application for candidacy to your ph.d. program favorable consideration. should you need any further information in your deliberation, please do not hesitate to contact me.
出国导师推荐信6
  Dear Sir or x x x:
  I take great pleasure in recommending Ren Ren, one of my favorite students, for admission into your distinguished graduate program.
  Mr. Ren was admitted in 1986 at 14 years of age into the SPECIAL CLASS for the GIFTED YOUTHS, my
  university's unique program that caters to the intellectual needs of unusually talented Chinese youngsters. It was a rare privilege he earned with his nearly impeccable academic performance through the years of his elementary and secondary school.
  He impressed me almost as he entered into my university, a major cradle of China's scientific and technological talents. At the time, members of the Gifted Class all had to spend half a month studying by themselves the
  principles of calculus and then take an exam so that we could evaluate their self-study capability. Mr. Ren scored the highest grade in that exam. He also exhibited a keenly whetted mind during class discussions. To my regret at the time, his English was not as good as his mathematics or physics. But I noticed he made a point of working especially hard in improving his English during his five undergraduate years with us. By now, he seems to be at least as proficient in English as most of his former classmates in the Gifted Class.
  In my experience with Mr. Ren, I was impressed with not only his extraordinary intelligence but also his ambitions and persistence. I am sure that Mr. Ren will be an outstanding student in any doctoral program that he may care to enroll in. So I would like to support him firmly in his quest recommendation into account when considering his application. I would greatly appreciate it you decide to accept him as he wishes.
  Yours sincerely
出国导师推荐信7
  Dear Colleagues:
  MS. XXX requested a letter of reference from me to support her application for graduate studies at your university. As her research adviser when she was a graduate student in my school of science Beijing University of Chemical Technology, I am pleased to comply with her request.
  I have known Ms. Zhang since 20xx, when she was admitted as a Master of Science candidate into the school. As her research adviser, I directed her research and found her a promising youth radiating with intelligence and creativity. During her first year, she got a very good record in major courses and earned good scores major and general GPA 3.3. She particularly enjoyed challenging areas of studies such as Quantum Chemistry and Theory of Electrochemistry.
  During the following two years, Ms. Zhang worked on a computational theory study of inorganic functional
  materials project for his degree thesis "Theoretical Study of Electronic Structures of Several Representative Metal Element in the Hydrotalcite Slabs". To make the theory model meet the actual materials, she faced down many practical problems, such as building reasonable module of inorganic materials, and calculation techniques. Working hard and independently, she cracked the problems one by one, and came up with a thesis that was characterized by academic excellence. During her M.S. period, she had three papers published in international journals.
  Judging by her outstanding performance while she studied with me, I am convinced that Ms. Zhang has acquired the knowledge and intellectual sophistication on the basis of which she can undertake world-class training. I therefore lend her my enthusiastic support and would appreciate your favorable consideration of her application.
  From: x x x x
  Department of the SPECIAL CLASS GIFTED for YOUTHS
  University of Science and Technology
  Hefei, Anhui 230026, P.R. China
  July 1, XXXX
出国导师推荐信8
  Dear Admissions Committee,
  As Director of the State Key Laboratory of Electrical Insulation at ABC University in BLANK, China, it is my sincere and distinct pleasure to recommend Ms. Xiao Xiao for your graduate program in BLANK.
  I have known Ms. Xiao since 20xx, when she was one of eighty students who completed their undergraduate thesis projects in my BLANK laboratory. Ms. Juan's enthusiasm for and diligence in learning helped her become one of the most outstanding students in the entire group, making a strong, positive impression upon me. Ms. Xiao is a very driven woman and student who know what she wants to accomplish and does not falter in her chosen path. Her intellectual curiosity and desire to acquire new acknowledge continuously have led her to perform much study on her own outside the scope of her classes and research work; oftentimes, I witnessed her consulting scientific
  books and journals to help her discover how she could improve her knowledge and her work in the laboratory. Countless times, Ms. Xiao remained in the laboratory for more than twelve hours in a row to complete her work and make sure there were no errors. With such devotion and fortitude, Ms. Xiao did not surprise me with her superior performance on her thesis paper. In terms of her character, Ms. Xiao is an amiable, courteous, and helpful young woman who has many friends amongst our laboratory personnel.
  Ms. Xiao is ready to move on to a more rigorous program of graduate study. Her academic performance, research work, and upstanding personal character have won her my highest recommendation, and I hope you give her application strong consideration. Thank you.
出国导师推荐信9
Dear Sir/Madam:
  I'm writing this letter of recommendation for Mr.Caleb,my former student. I have known Mr. Caleb for more than 6 years since his freshman year at "University of Minnesota". At that time,he took the course-- "Mathematical Analysis," which I taught mainly for junior students majoring in Mathematics.
  To my surprise,I found he was among the few students in his class who could keep up with the pace of my lectures. Moreover,he often posed thought-provoking questions during the course. Thus it was natural that I liked discussing with this young man and became familiar with him. The more I knew him, the more I found he was talented at mathematics. As you can see,he got excellent scores on the course.
  In fact,he ranked No. 1 on this 270 hours course in the talented student class which has 34 intelligent others. With his outstanding talent and solid mathematical background,he also did quite well in most other courses during his undergraduate study. By the way,you may wonder why his undergraduate scores look not so good compared to other Chinese applicants. It is easy to explain,because he belonged to the talented student class,which were required to endure harder test papers and stricter grading than most other college students did at least at "University of Minnesota". He even served as Prof. Linda s Research Assistant for one year. No one could deny his commitment to his job.
  As a matter of fact,Prof. Linda s electronic lab happened to be neighboring my office and I could always see him working in the lab,either repairing the instruments or helping Prof. Linda collect lab reports. Maybe one more example will demonstrate his commitment more clearly. Once he suggested compiling a FORTRAN program to solve a complicated circuit problem in his class. In order to do that,he had to do a lot of computer work. However,because there were few computers available in our computer lab,he had to wake up at 5 a.m. in winter (please note: "Twin city" is a downtown near the north border of China,so it is pretty cold in winter and the heating system is not working very well.) to ensure the 1st position of the long waiting line for his classmates and himself! At last he and his classmates finished the program successfully with his great efforts.
  As to his personality,I would like to say Mr. Caleb is a warm-hearted, honest and upright student. He was always ready to help others. During my lectures,many students got confused at some points and I could always see Mr. Caleb help them explain during breaks. In the meanwhile,I must admit that Mr. Caleb was a bit impatient sometimes.
  Finally,I would like to conclude my recommendation as follows: frankly,Mr. Caleb is not a genius,but I promise his great intelligence,commitment to work and his kind nature will impress you deeply. Thus I recommend him without reservation for his admission and financial aid to your program. Please feel free to contact me if needed.
  Sincerely Yours,
  xxx
出国导师推荐信10
  尊敬的贵单位领导:
  您好!
  首先感谢您在百忙之中抽出时间来阅读我班学生的毕业推荐信。该学生是我在xx年招收的本硕连读的硕士研究生,明年7月他将会顺利毕业并获得硕士学位。
  该学生所学专业为广告学,能够从事市场调研、活动策划、营销策划、销售等类型的工作。xx年寒假学习期间在国美电器工作,担任销售主管的职位。能够带动团队创造最棒的业绩,多次获得公司表彰。本人性格内外兼具,善于与人交流沟通,学习能力很强、乐于钻研,擅长销售和推广之类的工作。有敏感的市场觉察能力,能够胜任营销策划类型的工作(包含一定的广告策划)。
  该学生在大学期间,在各方面都能严格要求自己,积极要求上进。在专业学习过程中,该学生学习态度端正,学习踏学努力,专业成绩优异,多次获得校级奖学金。
  在专业学习的同时,该学生还努力提高思想政治觉悟,是一名合格的共产党员;他还积极参加各种社会学践活动。该生团结同学,尊敬师长,具有很强的团队合作精神。
  总之,我愿意推荐xx同学到贵单位工作,同时,我也相信他能胜任以后的工作岗位!
  推荐人:xxx
  xxxx年xx月xx日
【出国导师推荐信】相关文章:
1.导师推荐信出国
2.导师的推荐信出国
6.导师推荐信
7.出国推荐信
8.导师工作推荐信